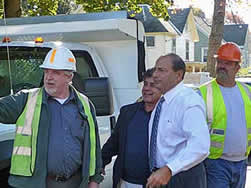 Department of Public Works
Hale Street
Norwich, NY 13815
Superintendent: Edward Pepe
Assistant Superintendent: VACANT
Phone: 607-334-1243
Fax: 607-334-1254
Filter Plant: 607-334-1251
Wastewater Treatment Plant: 607-334-1252
Billing (Water & Sewer Bills): 607-334-1250
Hours: Monday – Friday 7:00 a.m. – 3:30 p.m.
Norwich prides itself on well-maintained and safe streets. The Department of Public Works provides our residents with some of the best streets in the region, with upkeep, improvements, and more. The department also maintains the municipal water system, offering low-cost water and sewer services for area residents.
Engineering services for City projects are also handled through this department.
Department of Public Works Divisions

Highway

Parks

Storm Sewers

Vehicle & Equipment Maintenance
Street Maintenance & repair
Snow & Ice Removal
Street Cleaning
Tree & Stump Removal (Municipal only)
Flood Control
Street Lighting

Maintenance & Repair all city parks
City Pool Operation Repair & Maintenance
Snow Removal Park Walkways & Parking Lots
Ice & Roller Rink Maintenance & Repair

Maintenance, Repair & Replacement
Catch Basin Cleaning, Repair & Replacement
Water

Sanitary Sewers

Municipal Buildings

Engineering

Filter Plant Operation (Includes Wells)
Meter Reading, Meter Replacement
Customer Service Questions, Help
Distribution Operation Maintenance & Repair
Laboratory Analysis
Water Booster Station Operation (6 stations)
Water Storage Tank Operation, Maintenance & Repair

Wastewater Treatment Plant Operation
Sanitary Sewers Repair, Clean & Replacement
Customer Service Questions, Help
Operate, Maintain & Repair 6 Lift Stations
Laboratory Analysis
Coordination with State & Federal Regulatory Agencies

Maintain, Clean Repair all City Buildings

Street Recycle Program
Utilities Contracts All City Buildings (Electric, Natural Gas)
Right-of-Ways, Easements
Issue Street Cutting Permits
Review Plans as they relate To City Operations
Project Estimating For City Projects