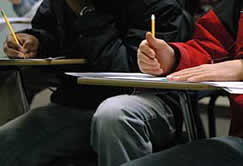 Civil Service Examination Postings
City of Norwich announces examinations for the following positions:

Civil Service Exams for Library Clerk and Keyboard Specialist which were cancelled due to COVID will be held on October 10, 2020. If you were previously scheduled to take the test, Human Resources will contact you. Please note, this is not open for new applications, but only for those whose test was cancelled.
Title
Application Deadline
Exam Date
OPEN-COMPETITIVE EXAMINATION POLICE OFFICER
(PDF)
08/14/20
09/26/20
OPEN-COMPETITIVE EXAMINATION TREATMENT PLANT OPERATOR TRAINEE (PDF)
08/28/20
10/10/20
EXAMINATION CUSTODIAN (PDF)
09/04/20
10/10/20
If interested, submit your resume to the Department of Human Resources, One City Plaza, Norwich, New York 13815
Civil Service Application Form (PDF)
Application For Veterans' Credit (PDF)
Civil Service Fee Waiver form (PDF)