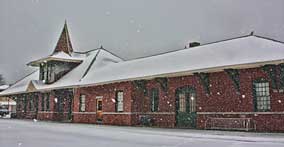 Employment: Jobs
The City of Norwich is seeking a School Crossing Guard
This Part Time position is responsible for assisting children in crossing the street at an assigned post during hours when students are entering and leaving school.
Desirable Skills Include:
Ability to be firm yet courteous with the public
Ability to get along well with children
Good powers of observation
Physical condition commensurate to the demands of the position
---
DIRECTOR OF HUMAN RESOURCES
This is an important administrative position involving the supervision of all aspects of the personnel functions of the City. The Director of Human Resources supervises, directs and coordinates the personnel functions in conjunction with the Norwich Civil Service Commission (CSC), develops employee training programs, administers employee benefit packages, and supervises all operations of the Personnel Office. Work also involves maintaining files on City personnel and personnel related issues and includes participation in collective bargaining negotiations.
For the full job description and requirements, please see this PDF file
---
GRANTS COORDINATOR
The work involves the responsibility of conducting research in the procurement of Federal, State, County and private grant funding. An incumbent is responsible for identifying potential funding sources, matching them with appropriate needs, formulating necessary procedures for the writing, timely and accurate review, and submission of proposals. Upon award of grants, the employee notifies the responsible parties of the contract procedures and the approved budget parameters.
For the full job description and requirements, please see this PDF file
---
If interested, submit Civil Service application to the Deputy Clerk, City of Norwich, One City Plaza, Norwich, NY 13815.
Additional vacancies (if any) are listed here (external link). If you are looking for current civil service exam information please go to civil service exam postings.
---
THE CITY OF NORWICH IS AN EQUAL OPPORTUNITY/AFFIRMATIVE ACTION EMPLOYER