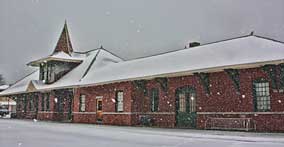 Employment: Jobs
Current vacancies are listed below. If you are looking for current civil service exam information please go to civil service exam postings.
Lead Operator
Responsible for day-to-day supervision and planning of work for the cities water and wastewater operations. Includes inspections, laboratory, equipment maintenance and repair, equipment operation, operation coverage and other duties.
Requirements:
Grade III Wastewater Operators Certificate issued by the state of New York
Class B-CDL issued by the state of New York
Grade II-A Water Operators Certificate
Class D Water Distribution Certificate issued by the state of New York
Bachelors degree in a related field and two years of experience in the operation of a water or wastewater system or an equivalent combination of education and experience.
Send resume and salary requirements to Deborah DeForest, Director of Human Resources, City of Norwich, One City Plaza, Norwich, N.Y. 13815 on or before April 24, 2015. EOE/AA.
---
If interested in any of the above, submit your resume and civil service application to the
Department of Human Resources, One City Plaza, Norwich, New York 13815
THE CITY OF NORWICH IS AN EQUAL OPPORTUNITY/AFFIRMATIVE ACTION EMPLOYER